Unleash Your Spirit of Adventure on a Walking Safari in West Kilimanjaro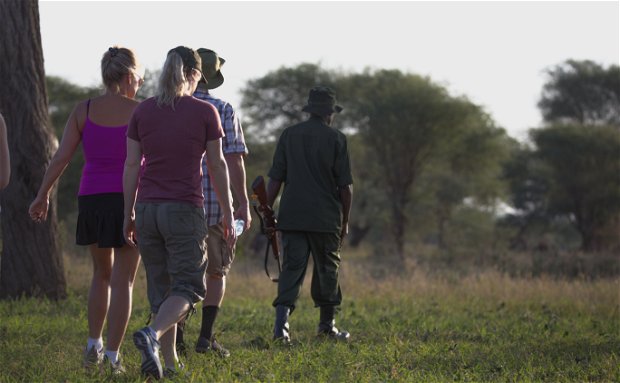 Prepare to unleash your inner adventurer as you step into the untamed wilderness, immersing yourself in the breathtaking landscapes and cultural wonders that lie ahead. Trek through rugged terrains, get up close with awe-inspiring wildlife, and witness the vibrant traditions of local communities. Unveil the secrets of West Kilimanjaro on foot, creating unforgettable memories that will ignite your spirit of adventure.
Add-ons in
West Kilimanjaro/Tarangire/Ngorongoro include Bush Dinner, Maasai, Datoga, and Hadzabe in Lake Eyasi. experience in west Kilimanjaro and respectively, Mt Kilimanjaro day hike (Shira Plateau), walking safari, and cycling tour.
Prepare to embark on an unforgettable adventure as you step into the untamed wilderness of West Kilimanjaro in northern Tanzania. Bordered by the world-renowned Amboseli National Park in Kenya, this rugged terrain offers a unique opportunity to witness nature at its most raw and captivating. With the majestic Mount Kilimanjaro casting its shadow in the east, and the stunning Arusha National Park and Mount Meru to the southwest, this region is a haven for intrepid explorers. As you traverse the open savannahs, mineral-rich flat pans, and dense acacia woodlands, you'll find yourself in the heart of Maasai territory. The nomadic Maasai people, living amongst their cattle, coexist harmoniously with the diverse wildlife that roams freely. This vast stretch of land serves as a vital wildlife corridor, particularly for the magnificent elephants that journey from Amboseli National Park in Kenya to Mount Kilimanjaro and Arusha National Park. Witnessing these awe-inspiring creatures, among the finest specimens in the country, in their natural habitat is an absolute privilege and an experience guaranteed to leave a lasting imprint on your soul.
Itinerary
Day 1 - 3
West Kilimanjaro
The three days tour will include a travel from a hotel in Moshi and start with a game viewing in the area, cultural tour at Osiligilai Maasai lodge, cycling tour and a walking safari, night game drive.
Away from the crowds overlooking the Kilimanjaro, West Kilimanjaro is a true gem in northern Tanzania, not far from the cities of Arusha, Moshi and Kilimanjaro airport. A beautifully overgrown and hilly landscape with forests and groups of Maasai huts. And always a fantastic view on Mount Kilimanjaro. The whole area is considered an important wildlife corridor and has populations of elephant as well as species such as lesser kudu, gerenuk, bat-eared fox and striped hyena. The rich birdlife in West Kilimanjaro makes for great birdwatching. Some of the notable species are Masai ostrich, Kori bustards, crested francolins, white-headed buffalo weavers, tawny eagles and white-bellied go-away-birds. A stay at West Kilimanjaro is more about the community than wildlife, and a short stay will allow time spent with Maasai communities to provide insight to their remarkable culture and the area can be an ideal for cycling tours which can a single day to multiple days. NB: cycling in west can be arranged at an additional cost.
Day 4 - 5
Tarangire National Park with a stop at Arusha
On the fourth day the early morning drive from west Kilimanjaro on day four to Tarangire National Park with a stop at Arusha to get some little supplies for use on safari then head south to Tarangire national Park and start a game view and there after we take lunch at the picnic site and after a late afternoon game drive we drive out of the park and take a road to Karatu for the night at Ngorongoro farm house.
Day 6
Ngorongoro Conservation Area Authority (NCAA)
Full day game at the crater. Ad on in NCAA we can add more activities at Oldupai Gorge, visit to a Maasai Boma, walking safari at Empakaai crater, Laetoli footprint or shifting sand. Later we drive to Karatu for an overnight stay at Ngorongoro farm house.
Day 7
Cultural tour at Lake Eyasi (for experience with the Hadzabe and Datoga tribes).
Lake Eyasi located along the Yaeda valley a famous place for cultural travelers to go and witness the daily of the Hadzabe (traditional hunter-gatherer people who have one of the richest and most interesting histories) and Datoga are pastoralist Nilotic people with rooted in South Sudan or Ethiopia based in Yaeda Valley and Northern part of Singida region. Time spent with the Hadza and Datoga offers a very raw and authentic cultural experience. After the day with the two tribes, you will then drive to Moshi town for an overnight stay with an option for a night life.